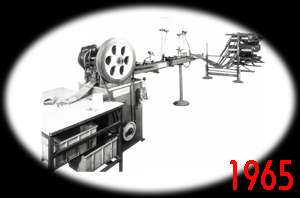 The Italpunti history
began in the year
1965
when the today's President
Mr. Franco Sarti
designed the first "
folding band machine
" to produce staples, and in so doing launched the first revolution in the staples production process, that until that period was utilizing only single wire machines.At that time too the first
single flattening machine was designed
having a full electronic control, designed to prepare the flattened wires on spools to feed the newborn multi wires machine. The production capacity of that first multi wires machine was about 300.000 staples per hour utilizing manual packing. 10 years later, in
1975
, the folding band machine was replaced by a "
press system
" utilizing an eccentric press, (that is still today the most utilized staples production system in the world).
Around the same period, at Italpunti the first multi wires flattening and banding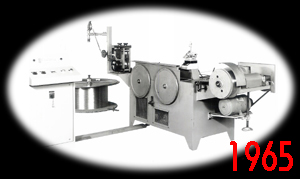 line was also realised, which was reducing the band production costs when compared with those of the single wire flattening machine. Until that year the machines designed in Italpunti were utilized only for its own production of staples, because the Company was founded as a staples production company, but the "rumours" of Italpunti technology was arriving at several Companies making staples around the world, and in this way the first contacts began with staples manufacturing Companies asking to buy this technology for their own staples production.
Step by step Italpunti started in this way to produce machines for selling, and it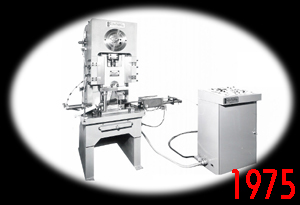 was at this point that Italpunti Macchine srl was founded, and still today that is our Company name. 5 years later, in
1980
, Italpunti Macchine srl took another 2 big steps in developing staples production technology:
1 the first "4 columns guide" press having the highest production speed in the world together with a very high stamping precision. This kind of press was the first press expressly designed and realised for the production of staples.
2 also designed was the first complete staples packing system, including too the automatic boxes forming machine starting from an open carton. These machines were reducing, (sometimes also eliminating), the necessity of workers for the staples packing processes, with a drastic reduction in production costs.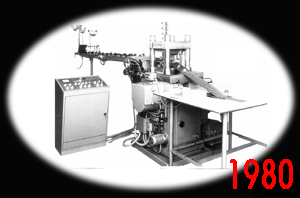 Today
our fastest production line utilizing a multi- strip system can produce
up to 1.000 strips of staples per minute
: all our lines are fully equipped with PLC controls, CNC systems and are motorized with "high efficiency" brushless motors with digital drives.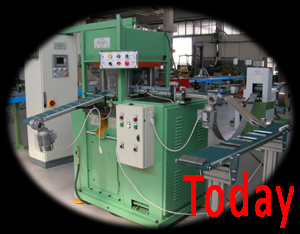 All the machines are controlled by colour touch screen panels, are supplied with an auto- diagnosis system able to inform the Operators about any eventual problem on the machine and suggesting the relative solution. Present on all the lines is an Ethernet connection which, in the case of a problem, can allow us to check the machines directly from our office. The same connection can also allow to our customers a control of the machines working from the their own company PC net . For our new future customers, and for all our
100 and more esteemed customers all over the world who we have already served during these years
, we think we are able to offer today, and for a long time to come, some of the best equipments available on the world market for the high-tech and high-speed production of staples and brads and for their related automatic packing.
Thank you for your kind attention.
.
Mirco Sarti
(General Manager)